Shandong Dongyue Chemical Co., Ltd. plans to invest RMB 48,495.12 million to construct a supporting project of 90,000-ton/year fluoridated materials industry chain. The project covers an area of about 3900m, including the construction of 25,000-ton/year R142b and supporting 5,000-ton/year R143a co-production device in the North factory, and 60,000-tons/year R22 production device and supporting system in the South factory. The capacity of 25,000-tons/year R142b device is divided into two parts. One part is 18,850 -tons/year R142b, which will not be off the production line and be directly transported to Shenzhou Company by pipeline as the raw material of 20,000- tons/year PVDF. The other part of 6,150-tons/year R142b will directly pipeline-transported to the new combined production of 5,000-tons/year trifluoroethane (R143a) plant as the raw material.
With excellent performance, PVDF is widely used in solar photovoltaic backsheet, water treatment fiber membrane, lithium battery binder and diaphragm coating and other fields.
With the rapid rise of lithium battery application and the increasingly strict waste water discharge policy, PVDF will have a huge market increase in the future.
Out of the PVDF market prospects, since this year, major manufacturers have announced production expansion or new capacity.
Huaxia Shenzhou has started the 20000 tons/year PVDF new project in this year, which is the most important project for Shenzhou in the following years.
After the completion of the project, Shenzhou company will become the largest PVDF production plant, will greatly enhance the company's dominant position in the industry.
Recently, in the "2021 Sequoia Digital Technology Global Leadership Summit", WANG Chuanfu, the chairman and president of BYD Group, predicted that the sales of new energy vehicles in the Chinese market is expected to break 3.3 million units this year, and by the end of next year, the penetration rate of New energy vehicles in China will exceed 35%. He noted that electric cars are in an unprecedented period of development in China. The penetration rate of new energy vehicles has risen from 5%-6% at the beginning of the year to about 20% last month. Wang Chuanfu believes that with the improvement of the permeability of new energy vehicles, the industry chain of the automobile industry will be restructured.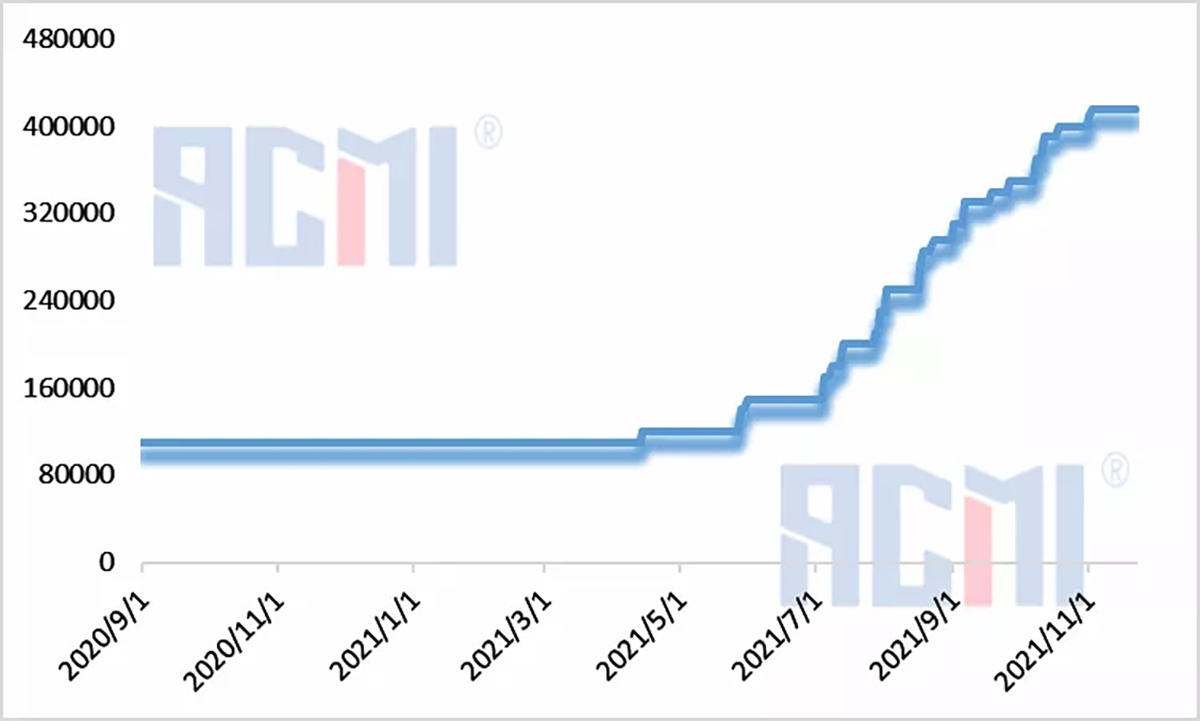 Price trend of lithium grade PVDF
Profit from the exceeding expected growth of new energy vehicles, PVDF lithium adhesive demand continues to expand. Due to high technical barriers and long production expansion cycle, the supply gap is difficult to make up in the short term. The PVDF shortage will last to the end of 2022. Up to now, the mainstream reference price of consumer battery PVDF is around 420,000 yuan/ton, and the price of power battery PVDF is between 500,000 and 600,000 yuan/ton. From the current situation, PVDF price is expected to keep going up.
---
Post time: Dec-06-2021